Meet Curtis. He is a gemini, enjoys long walks near the spaceship debris, and looks great in red jogging suits. New to Strangetown and with only the clothes on his back, Curtis soon acquires himself a nice wooden lounge chair, a mini fridge, and a small hut with a toliet and sink. Life as a bachelor is good, as you can see.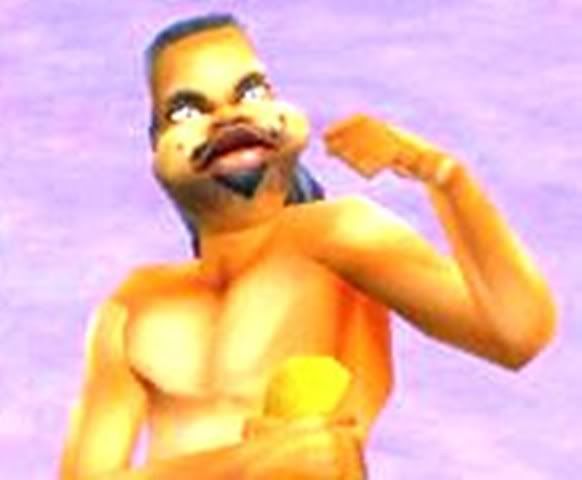 Not much for modesty, much to the neighbors dismay. His only complaint is the streetlights that sometimes keep him up at night, but at least that means that the electricity is free.




After an unfortunate robbery while he was using the restroom, Curtis uses the reward money to invest in a bed and promptly follows his dream of becoming a professional freestyler for tips.




Probably there were just too many guppy looking mullet bearing jogging suit sporting playas trying to break into the industry, because the talented Curtis frequently would find himself shooed out of the downtown bars and clubs. Life was tough, and stealing food was really cramping his style.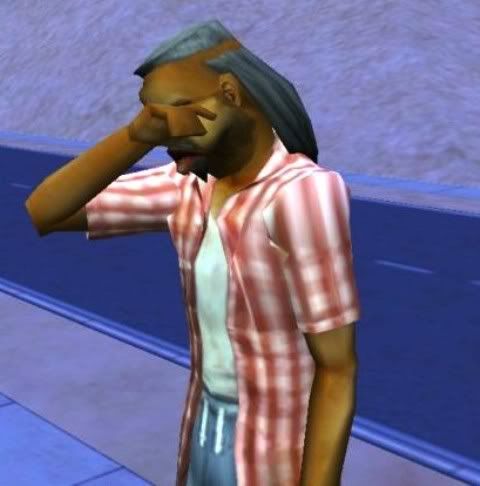 ...also, selling the toliet to purchase the mini fridge was embarrassing.




Sleeping during the day was overrated, anyhow. Besides, he couldn't sleep with all the townies walking by and reading his paper.




Curtis starred briefly in a sideshow act with the circus, but had to leave for reasons he's not legally allowed to discuss. Fortunately, his partner in crime came back to town with him. Please meet Lola the Alien (just call her Lola).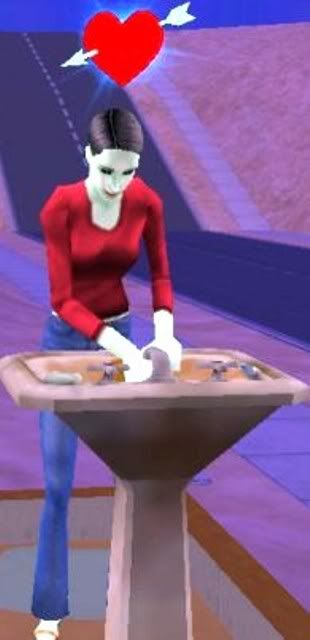 She came with a small case of OCD and she's legally blind, but they made a cute couple, and other sims didn't stare as much at Curtis downtown when he had Lola with him.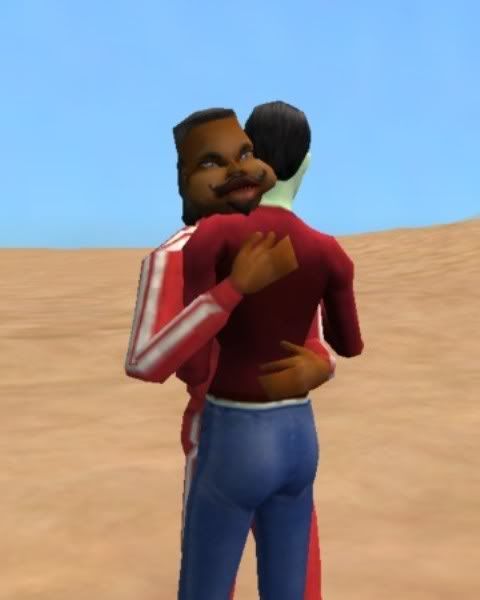 Not to say they didn't have their hard times too. There was that day that Curtis was tricked by the faulty sink.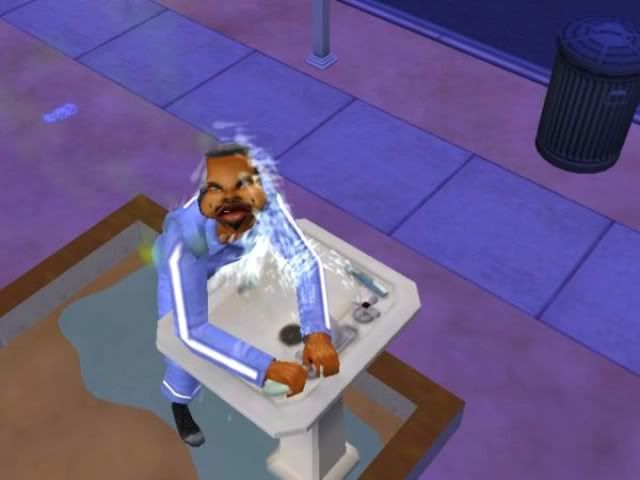 ...and Lola never really did recover from the weed incident. (Notice how even in the face of disaster, Curtis remains cool and waves at the neighbors?)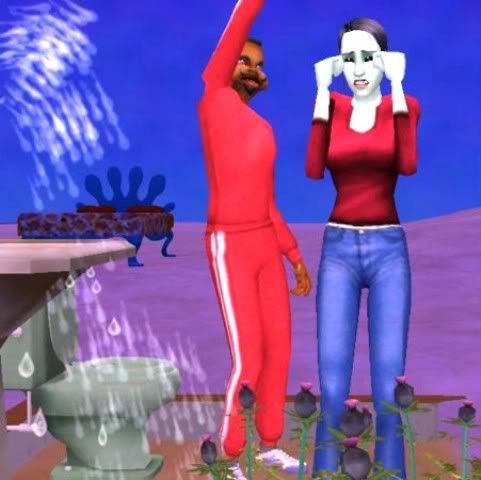 But even though times were tough, their love kept them together.




One day, when Lola was shaping his sweet fade cut, he realized that she was the woman for him. Straight away he went back downtown, and he freestyled for tips until he fell down from exhaustion and a stinky cloud of green surrounded his chisled physique (also, he peed his pants). He was soon able to save up enough for a ring.

He proposed to her at the local library (free AC and electricity, too!), and luckily, she said yes.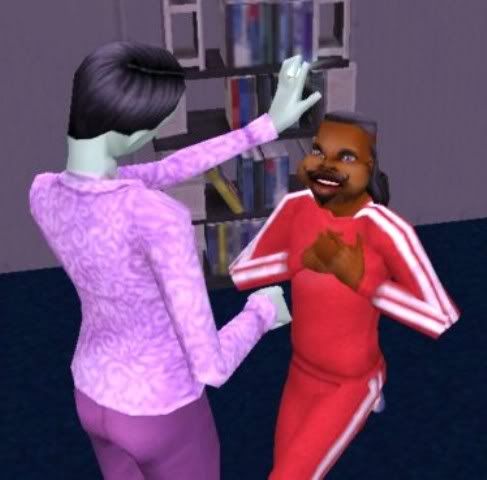 Without much time to lose, they were married.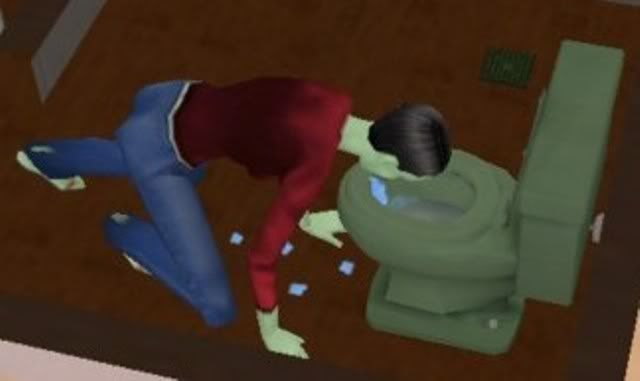 Curtis is a pretty sloppy kisser, but that didn't stop him from freestyling for some tips at his wedding reception.




The man has dreams.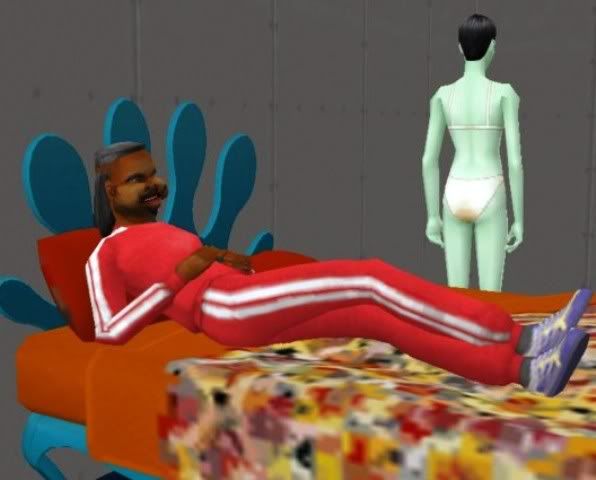 Curtis, you dog.




The new place was small, cramped, and smelled vaguely like fritoes, but it was theirs. Lola had a rough pregancy, and it was as if the grim reaper was always at their doorstep. Thankfully, Curtis has skills in guessing, so Lola lived to see another day. Well, kinda... if she squints real hard.

Alien pregnancy results in lots of bizarre behavior, or at least that's what Lola told Curtis as she left the bright white light in the fridge (now full sized)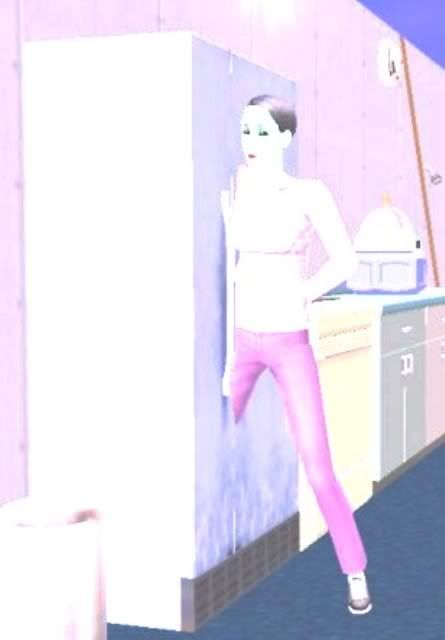 The birth resembled something that involved a giant grasshopper in panties...




...but Curtis didn't want me to talk about that.






This experiment involves Curtis, a Sim so ugly that he has quickly become my favorite, and the chance to weed out his genes over 10 generations so that his great, great, great, great, great, great, great, great grandchildren can be Miss Simerica. They're only marrying Maxis sims, and no money cheats are being used.

Will they succeed? I'm not sure, but wait until you see the first generation of children!